The continuity and renewal of life is reflected in the changing scenes of nature that surround us. The work of nature never ceases to amaze me, especially the form of a tree. Diversity fascinates me,
driving me to experiment in the realm of abstraction in more recent works, but never straying far from Nature for inspiration. I see and paint the world around me as a world of shifting perspectives, a universe of energy sometimes quiet and reflective, sometimes more active and agitated, each seeking balance within the other. I enjoy exploring in an exaggeration of color, forms, and texture and want the viewer to want to touch the painting.
The joy of an artist is to recognize what others cannot see and to set that vision free. When my grandchild was born with autism and never developed language skills, I was able to hear his words in my heart. Through God's help, I created a program to encourage him to communicate. His success using this program that awakened his mind will always remain my most rewarding creative work.
I suppose as long as I'm alive I will continue to adjust some medium in a way to make it more interesting to me, and as a Maker I will keep busy as long as my fingers obey. I believe that if you are active in your life, achieving the most you can in your life, then you will be happy.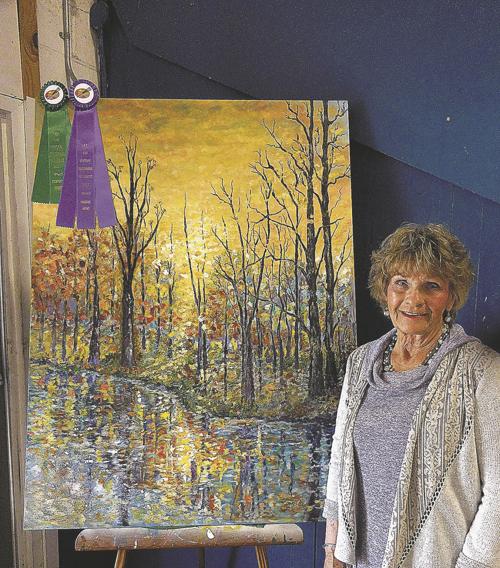 Jean, a Georgia native from Moultrie, is an artist who enjoys painting with oils. She also enjoys sketching, hand building ceramics, and creating three dimensional designs using wire, wood, plaster of Paris, and various metals.
Jean's paintings and three dimensional designs have been shown at college galleries, cultural centers, competitive group exhibitions, and commercial galleries. Her paintings have appeared in numerous juried competitions throughout Georgia and northern Florida receiving multiple awards. She has been awarded the Women in the Arts Award by the National Society Daughters of the American Revolution, Washington D.C. She has also been commissioned twice to design the annual Christmas ornament for the Moultrie Downtown Merchants Association.
Since 2006, Jean's work has been published annually in Pegasus, a literary magazine of Abraham Baldwin Agricultural College, with her work chosen in 2007 to appear on the front cover. In 2007 she was invited to present a solo exhibition of her work at ABAC in Tifton, and in 2010 the Turner County Arts Council also presented her work in a solo exhibition. Her solo exhibition "Against the Wind" was displayed in the Vereen Gallery at the Colquitt County Arts Center in 2014. Her paintings have been chosen to hang in the office of Georgia Governor Nathan Deal at the State Capital in 2015 and again in 2018. In 2016, Jean's breast cancer series titled "Survivorship, the Beginning of Courage" was shown in a group exhibition alongside selected works by renowned Georgia artist Lamar Dodd. She was awarded 2019 Best in Show by the Albany Area Arts Council at its "19th Annual Southwest Georgia Regional Juried Fine Arts Exhibition and Sale".
Her works can be found in private and corporate collections.
Browse all of the artwork from the exhibition by scrolling through the gallery below. Artwork may be available for purchase, contact the Arts Council for more information.