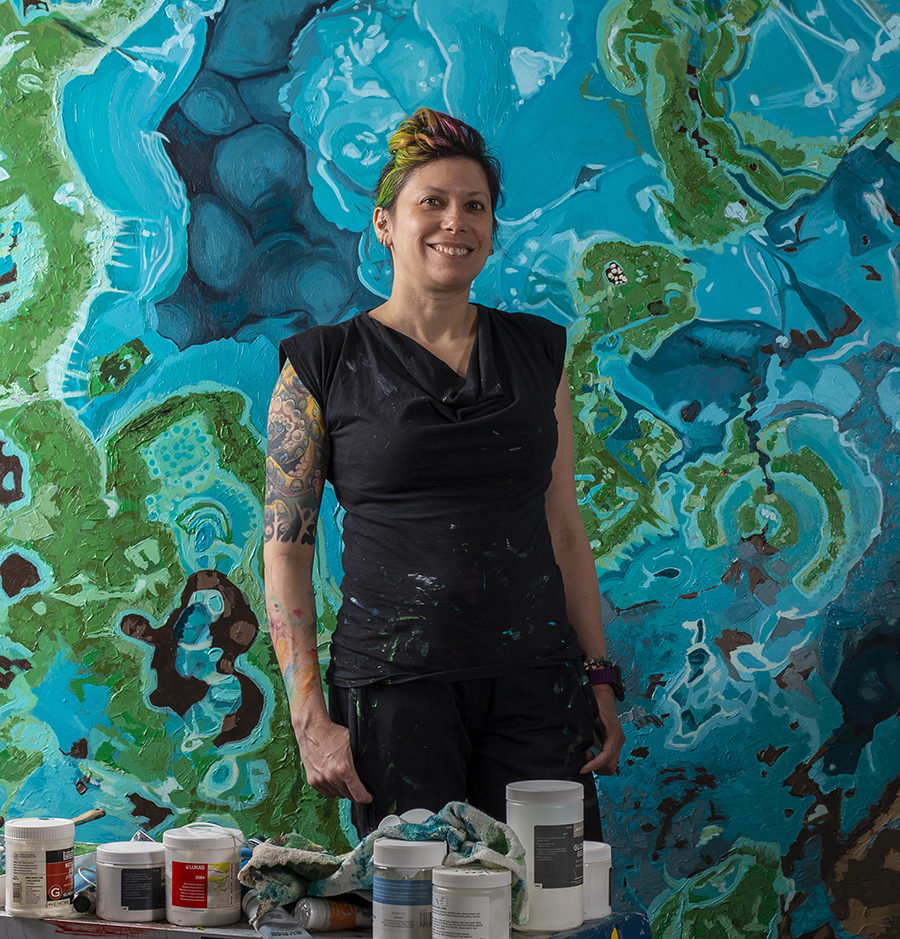 Madelyn Carter was born in Bethesda, MD in 1977 and has lived in Pennsauken, NJ, Albany, GA, and Savannah, GA throughout her life, gathering inspiration for her artwork in every location. Creating shapes and experimenting with color has always been at the root of her desire to become an artist and also led to her career as a professional hairdresser for the past 18 years.In middle school, she was introduced to art by her 7th grade art teacher Mrs. Gourley-Damon who first recognized Madye's talent in art and design and continued to encourage her to pursue multiple modalities.
One of the biggest obstacles Madye encountered in life was leaving her hometown and all of her friends in New Jersey at the age of 16 to move to Albany, GA. Although a difficult transition, she now enjoys life in the south and the people and opportunities she's found there. Madye attended Darton college for 2 years and then graduated from the Savannah College of Art and Design, receiving a BFA in computer art with a minor in Sculpture and credits SCAD with giving her the education and courage to explore her art in innovative ways.
Exhibition Artwork
Browse all of the artwork from the exhibition by scrolling through the gallery below. Artwork may be available for purchase, contact the Arts Council for more information.
Tour The Exhibition
We're currently developing the online exhibition experience however the show is now open to the public for in person tours. You can find exhibition dates, gallery hours, and directions to the Arts Council here.
EXHIBITION DATES: August 3, 2023 – September 21, 2023
RECEPTION DATE: August 3rd from 6pm – 8pm
GALLERY HOURS: Monday – Thursday from 12pm – 4pm
In-person tours available by appointment.
GALLERY LOCATION: 215 North Jackson Street Albany, GA 31701
GET DIRECTIONS