I work directly from nature with oil paint applied in a thick vigorous impasto. Color is everything to me: It expresses intensity of emotion as it defines space and form. While color and form may be freely interpreted, it remains important to me to work from nature. I appreciate the directness and spontaneity of the dynamic, always changing conditions of the outdoors while I paint and draw: They create a joy and a challenge while I work, and I often have no idea how a painting will turn out. That spontaneity is the fun part.
The French called painting directly from nature en plein air, "in open air." It is exciting and inspiring to slather paint, engulfed in a wild swamp or forest, to dance with the elements of wind, wildlife, shifting light, and all the other uncontrollable aspects of nature. This joy and excitement drives me to make art. I think of my style of art as plein air expressionism.
In the last few years I have taken to remote waterways to paint from my canoe, and even more recently from my kayak. I quietly paddle into wild rivers and swamps, and respond directly with oil, watercolor and mixed media. I find the aqueous media paintings to be bright and full of light and air, reflecting a serene energy that speaks of the place, as well as my feelings. Soft pastels lend themselves to my direct, spontaneous approach, mark-making with a more delicate hand than the brushstrokes of thick paint. Regardless of the media, my art embraces nature in all her glory.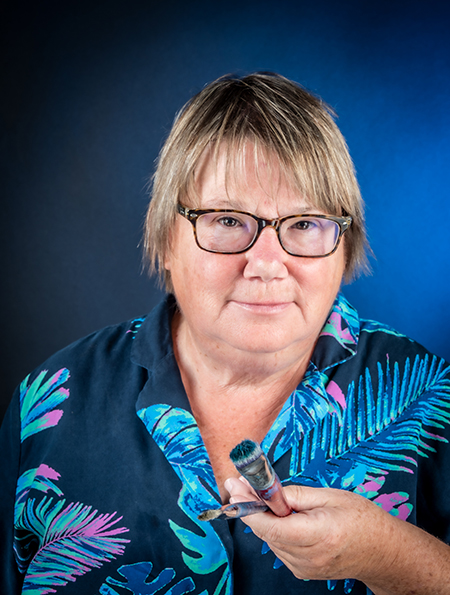 Julie Bowland is a Valdosta, Georgia-based artist who teaches art, and directs the Dedo Maranville Fine Arts Gallery at Valdosta State University. Growing up in the Midwest, frequent trips to the Art Institute of Chicago whetted her appetite for Impressionistic painting at a young age. A longtime resident of the Southeastern United States, she finds beauty in the landscape that surrounds her. She holds a BFA in Painting from Florida State University and an MFA from Arizona State University.
Bowland's work is included in private, public and corporate collections, including the Museum of Arts and Sciences in Daytona Beach; the City of Tallahassee Permanent Collection; Barnett Bank in Jacksonville; First South Bank in Tallahassee and Florida State College at Jacksonville. Her work was featured in a solo exhibition at the Buchanan Museum of Fine Arts in Buchanan, Michigan, and she recently exhibited at the Kobro Gallery, Strzeminski Academy of Fine Arts, Lodz, Poland. Her paintings are represented by the Venvi Gallery in Tallahassee, Florida.
In recent years, Bowland has presented Plein Air painting workshops for high school students, college students, and adult artists in Florida, Georgia and Utah. Sometimes painting from a canoe or kayak, her work focuses on the wild and watery landscape wherever her brushes take her, from Florida and Georgia to Hawaii.
Exhibition Artwork
Browse all of the artwork from the exhibition by scrolling through the gallery below. Artwork may be available for purchase, contact the Arts Council for more information.